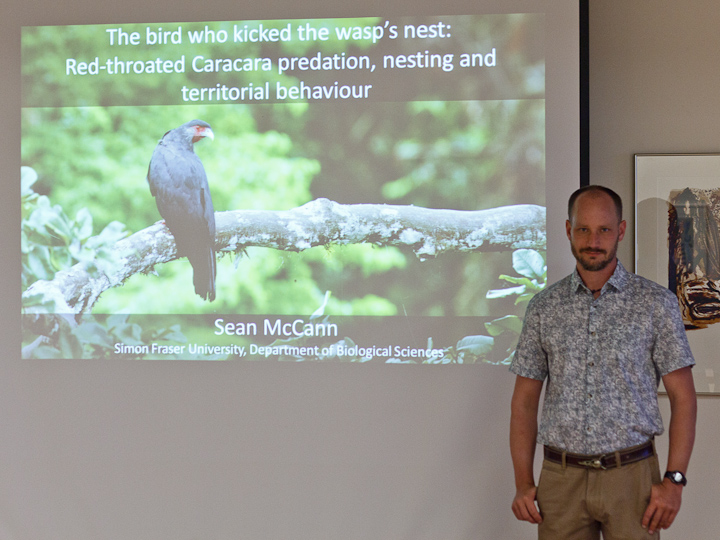 Thursday morning last week was a pretty special day; it was the day I defended my PhD thesis. For those of you who don't know, a thesis defence is a formal examination, wherein the candidate (me) gives a public seminar on their thesis, and then is questioned by an examining committee, generally composed of their supervisory committee, plus an internal and external examiner, and all headed by a chairperson selected by the department.
My examining committee was headed by Dr. Margo Moore, who did a great job keeping the event rolling and the atmosphere relaxed. Dr. David Lank was my internal examiner, a great guy I have always gone to with questions on bird research (we do not have a lot of institutional experience to draw on in a chemical ecology lab). My external examiner was Dr. Keith Bildstein, a researcher at Hawk Mountain Sanctuary, with decades of experience in raptor research and in particular experience studying Striated Caracaras in the Falkland Islands and Patagonia.  My advisory committee consisted of Dr. Sean O'Donnell, who was absent for the defence, but there in spirit (he is doing fieldwork in Costa Rica), Dr. Ron Ydenberg, an expert in bird foraging behaviour, and of course my supervisor Dr. Gerhard Gries.
I gave my 40 minute presentation, outlining my research on Red-throated Caracaras, focusing on several aspects of their biology:
After the defence, we had lunch with teh committee, and then went to Trout Lake for a bit of a celebration. Here are some shots from the defence and the after-party. I know I have missed some important faces (Gerhard and Regine and Keith Bildstein!), but I hope you will forgive me, as I was just feeling relief!
This slideshow requires JavaScript.