Wow, it has been a long long time since my last post!
Well, too much to catch up on right now, but the news is that Catherine and I just got back from a trip to New Zealand's South Island. I know Catherine is planning on doing a series of blog posts on our adventures there (we were there for the International Congress of Arachnology), but these pictures have been burning a hole in my hard drive and I just wanted to share them.
OK, after a lovely 8 days touring around the South Island, we came to our last night in NZ. We wanted to be in striking distance of some good katipo habitat, yet be able to get back to Christchurch the next day for our departing flight. We therefore decided to camp on the south side of the Banks Peninsula, so we could visit Birdling's Flat to see some katipo. We settled down at the Little River Campground, a really lovely property with wooded sections and a cool little stream running through it (there are big eels in the stream!)
After our excursion to find katipo, we decided to look around the campsite. Our headlamps soon revealed glowing eyes adjacent to the stream, which we had learned in NZ signified fishing spiders in the genus Dolomedes (a big Dolomedes is way more likely than a big wolf spider in NZ). Just across the stream on a rock I spotted this big big Dolomedes, which Bryce McQuillan kindly ID'ed as Dolomedes dondalei (named for the Canadian arachnologist Charles D. Dondale).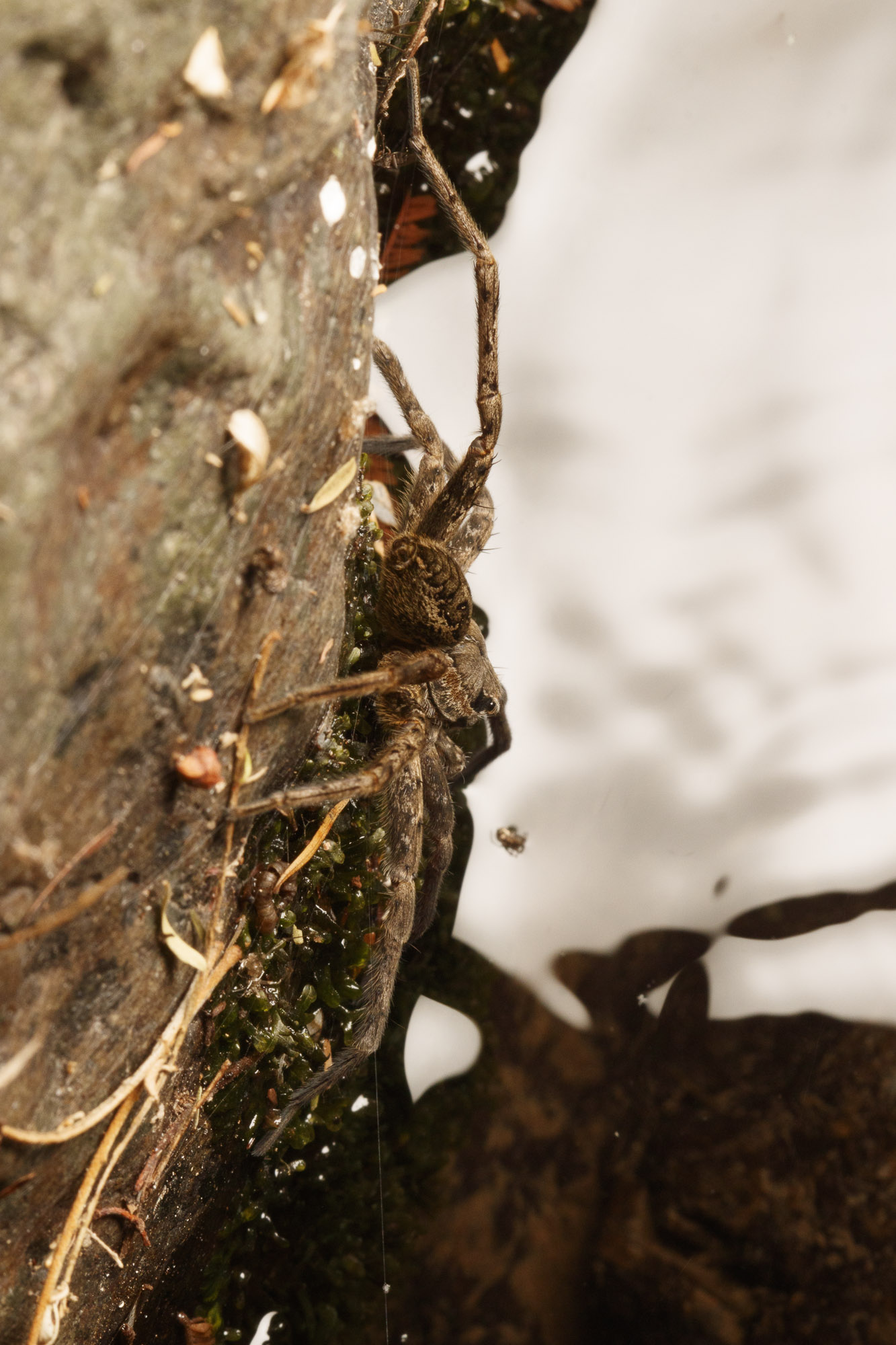 After taking a single frame of the large spider in hunting position above the water, she got sick of me, and did what Dolomedes often do when they feel threatened: escape under the water!
So after this session with the big female, we left her alone, and looked along the edge of the stream for more Dolomedes.
By the time I had shot this last frame, it was past midnight, and having driven a long ways from the Otago Peninsula the day before, and hiked all over the beach on our katipo tour, we decided to call it a night…But what a treat, seeing so many wonderful Dolomedes!!!! It was super impressive to encounter so many (we will post more from all around the island). They really seem to be the dominant large cursorial spider in a great many NZ habitats.